International Museum Day – digital
Fun for the whole family: The International Museum Day on 17 May will be digital
The International Museum Day is taking place for the 43rd time this year and over the years has become a permanent fixture in the museum and cultural landscape worldwide. This year the MUSEUM SCHLOSS FÜRSTENBERG invites you to a digital museum visit. Already in the week before May 17th, a digital interactive program for the whole family starts on the social media channels of the museum, such as Facebook and Instagram, and ends on May 17th with a premiere - the first live programs on social media from the museum.
11. - 17.05.2020 - PORCELAIN STORIES
The International Museum Day in Fürstenberg will be kicked off on 11.05.2020 with a great join-in campaign entitled "Porcelain stories". Tell us your story about your favourite piece of porcelain - it's easy: just write us a comment with a picture on our Facebook page or send your story to museum@fuerstenberg-schloss.com. We will publish a selection of the greatest stories on our website.
15.05.2020 - SOCIAL MEDIA QUIZ
From 15.05.2020 you can actively puzzle and prove your know-how in the field of historical porcelain in our social media quiz. Our museum director, Dr. Christian Lechelt, has put together a small selection of curious objects for you, whose functions may not be apparent to the layman at first glance. We want to know: "What is this?".
17.05.2020 - INTERNATIONAL MUSEUM DAY - digital
For the actual Museum Day on 17.05.2020 there will be a live programme on Facebook, where you will be able to ask your questions and receive competent answers from our experienced porcelain makers. The live streams will take place at 11:30 and 14:00.
At 11:30 a.m. you can take a live look over the shoulder of our porcelain makers at Porzellanmanufaktur FÜRSTENBERG in the visitor's workshop and get an impression of various production processes. Together we produce our porcelain pug ANNA, besides the casting in the mould the individual parts are assembled. Questions are of course welcome. Until 24.5.2020 we are looking for "A new dress for ANNA". At the painting competition you design our colouring template and with a little luck and talent we will design a pug made of FÜRSTENBERG porcelain, exactly according to your illustration. Please send us your entries via mail or social media direct message. But of course we are also happy about a mail with the #MuseenEntdecken and the link to our page @museumschlossfuerstenberg.
At 14:00 o'clock our director Dr. Lechelt organizes with you an object guessing of the special kind. You may be curious what kind of treasures he will present, dismantle or even demonstrate in a practical way. You are invited to guess together with the community.
The MUSEUM SCHLOSS FÜRSTENBERG makes a significant contribution to cultural and social life and offers you the opportunity to actively discover treasures from the past to the present. Despite the current Corona crisis and the currently closed doors of the most modern porcelain museum, we would like to make the Museum Day creative and interactive for you. Therefore we are looking forward to go on a digital discovery tour together under the #MuseenEntdecken.
We are sure that this action will get you in the mood for your next visit to the museum and we are very happy to inform you that we will be there for you again as usual from 21 May 2020. Of course, we will take certain visit regulations into account.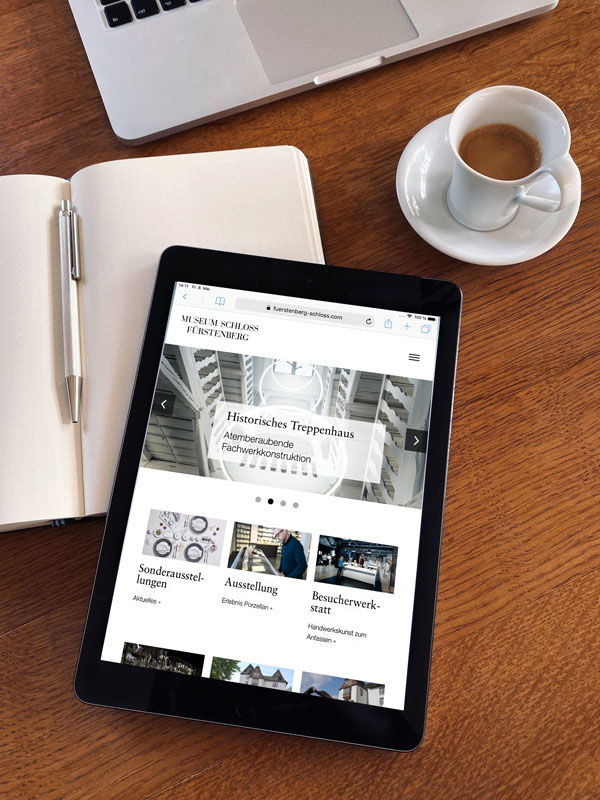 Dates
08.05.2021
– 24.10.2021

10:00 AM – 5:00 PM

Special exhibition SENSE AND SENSIBILITY

Porcelain and the five senses

24.10.2021

10:00 AM – 5:00 PM

Celebrating autumn at the museum

Special programme and expert evaluation